If you have purchased a license of the Data Toolkit, you must enter the information we provide into the Data Toolkit to activate the product.
To do this, click the Information button in the ribbon bar. In the following window, enter the license ID and password in the corresponding fields.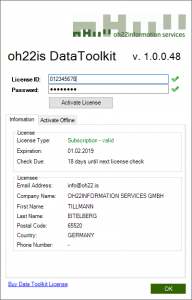 If you do not have an active Internet connection, you can also activate the Data Toolkit offline. To do this, click on the Activate Offline tab. The corresponding functions are described in three simple steps.
Please note that most of the Data Targets in the Data Toolkit cannot be used without an Internet connection.
If your license has been activated, it will be checked again after 30 days.